Kevin's Sealcoating, Your Sealcoating Specialist
Commercial & Residential Sealcoating Services For: York County, PA / Harford County, MD / Baltimore County, MD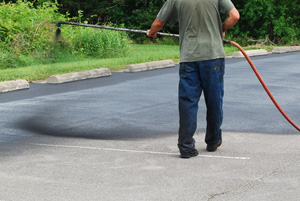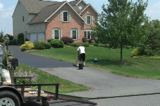 Blacktop paving is made of aggregate, fine stone or sand and asphalt binder. The binder is what gives the pavement its black appearance and is what holds everything together. New asphalt is rich and black but soon begins to fade due to oxidation. This is the effect of sun, rain and snow oxidizing the asphalt binder in the blacktop pavement. Over time, pavement becomes brittle and loses resistance to the loads placed on it.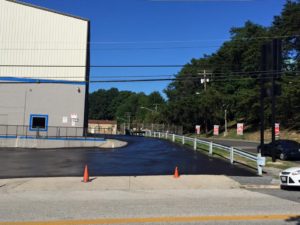 Asphalt is a petroleum product. Other petroleum derivatives that contact it act as solvents, weakening or dissolving the "glue-like" properties. These products include motor oil, transmission fluid, power steering fluid, brake fluid, gasoline, diesel fuel and more. When the protective coat breaks down, water undermines the upper surface and can lead to cracks and potholes. Quality sealcoating protects the asphalt from damaging factors plus provides curb appeal.
Sealcoating on a regular schedule pays off. It can double the life of an asphalt driveway or parking lot. It is less expensive than repaving or having to do extensive patching. In addition to the maintenance benefits, sealcoating increases the beauty of your property for years to come.
Phone: 717-881-1087
Email:  [email protected]
Service Areas
York County Pennsylvania:
Shrewsbury, Stewartstown, Glen rock, New freedom, Fawn Grove, Red Lion, Dallastown, Jacobus, York, Hanover, Spring Grove,Wrightsville and surrounding communities
Harford County & Baltimore County Maryland:
Parkton, Bel Air, Fallston, Jarrettsville, Hereford, North Harford, Westminster and surrounding communities