Professional Asphalt Paving
Kevin's Sealcoating provides paving services for parking lots and driveways in South Central PA & Northern MD.
Blacktop is a major investment in your driveway, road surface, or parking lot. When installed and maintained properly, new blacktop can last for decades.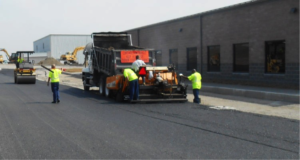 The base is the most important feature of any driveway or parking lot. The binder and base courses of pavement use larger aggregate, providing the structural component of the pavement. These layers are generally applied thicker than the surface courses. The top or surface is made with smaller aggregate and sand, primarily acting as a wearing surface while inhibiting the penetration of water.
Our asphalt paving process includes excavating and grading the area that is to be paved. New pavement work includes hauling and disposing of all dirt. For existing pavement this includes removing, hauling, and disposing of old asphalt. We will fill the excavated area with the appropriate stone base, then compact it to ensure the integrity of the overall asphalt surface. Finally, hot asphalt is laid either by machine or hand (depending on size) and compacted with a mechanical tamper or roller.
Schedule Your Free Parking Lot Pavement Marking Consultation Today!
Phone: 717-881-1087
Email:  [email protected]
Service Areas
York County Pennsylvania:
Shrewsbury, Stewartstown, Glen rock, New freedom, Fawn Grove, Red Lion, Dallastown, Jacobus, York, Hanover, Spring Grove,Wrightsville and surrounding communities
Harford County & Baltimore County Maryland:
Parkton, Bel Air, Fallston, Jarrettsville, Hereford, North Harford, Westminster and surrounding communities