Excavating – Looking for an experienced excavator in York County PA?
We provide excavating services for driveway and parking lot related projects in South Central PA & Northern MD.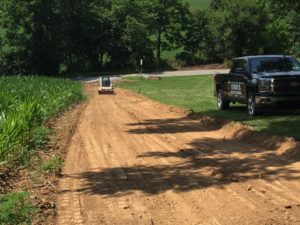 Our Excavating Services – You may not think about drainage and run-off until you're knee deep in water in your parking lot, or part of your old driveway has crumbled and washed away. Appropriate drainage is often overlooked when it should be one the biggest considerations when planning any pavement application. Any standing water on your blacktop surface will eventually erode the base of your asphalt causing pot holes and cracks. If not addressed, it can lead to safety issues as well. There are normally several cost-effective solutions to combat puddling and to prevent the undermining of your pavement. No matter what the need, we have the excavation equipment and experience to do the job right.
Kevin's Sealcoating does much more than storm water management. With a well-maintained fleet of backhoes, track-hoes, bulldozers and dump trucks, we can provide various other excavation services as well.
Septic and drainfield systems
Septic tank installation
Installation of water lines
Hauling
Basement excavation
Rock excavation
Road and driveway installation
Construction of rock retaining walls
Backfill and compaction & more!
Phone: 717-881-1087
Email:  [email protected]
Service Areas
York County Pennsylvania:
Shrewsbury, Stewartstown, Glen rock, New freedom, Fawn Grove, Red Lion, Dallastown, Jacobus, York, Hanover, Spring Grove,Wrightsville and surrounding communities
Harford County & Baltimore County Maryland:
Parkton, Bel Air, Fallston, Jarrettsville, Hereford, North Harford, Westminster and surrounding communities